UPL Ltd. , a global provider of sustainable agricultural solutions, announced that it would launch new insecticides in India containing the patented active ingredient Flupyrimin to target common rice pests. The launch will coincide with the Kharif crop sowing season, typically starting in June, with rice the most important crop sown at this time.
Flupyrimin is a novel insecticide with unique biological properties and residual control, effective against major rice pests such as brown plant hopper (BPH) and yellow stem borer (YSB). Extensive demonstration trials have shown that Flupyrimin protect rice yields from YSB & BPH damage and boost crop health, further supporting farmers' economic resilience and productivity. Flupyrimin is also effective on pest populations resistant to existing insecticides.
Mike Frank, President and COO at UPL, said: "Flupyrimin is a breakthrough technology promising a leap forward in pest management for rice growers. With market access maximised through UPL's wide-ranging distribution channels and differentiated branding strategy, the introduction of Flupyrimin in India marks another fundamental milestone of our collaboration with MMAG under our OpenAg® vision."
Ashish Dobhal, UPL Region Head for India, said: "India is the world's second largest producer of rice and the largest exporter of this staple crop. Growers here have been waiting for a one-shot solution to protect against pests, giving them peace of mind during the most critical growth stages of their paddy fields. Through Flupyrimin 2%GR, UPL is delivering top-of-the-industry control of YSB and BPH, while Flupyrimin 10%SC targets BPH at a later stage."
Flupyrimin was discovered through a collaboration between MMAG and the Prof. Kagabu group. It was first registered in Japan in 2019.
Basic Information
Flupyrimin
CAS No.:1689566-03-7;
molecular formula:C13H9ClF3N3O;
molecular weight:315.68;
Structural formula: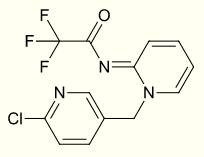 Appearance:off-white to light yellow powder;
melting point:156.6~157.1℃,boiling point:298.0℃;
Vapor Pressure<2.2×10-5 Pa(25℃)、<3.7×10-5Pa(50℃);density:1.5 g/cm3(20℃);Solubility in water:167 mg/L(20℃).
Water  stability :DT50(25℃) 5.54 d(pH 4)、228 d(pH 7)or 4.35 d(pH 9);
For BHP(brown rice hopper), we can supply pymetrozine,Dinotefuran,Nitenpyram TC and related formulation(single or mixture)
From agropages
---
Post time: Jul-27-2022